Martin Stadium Seating Chart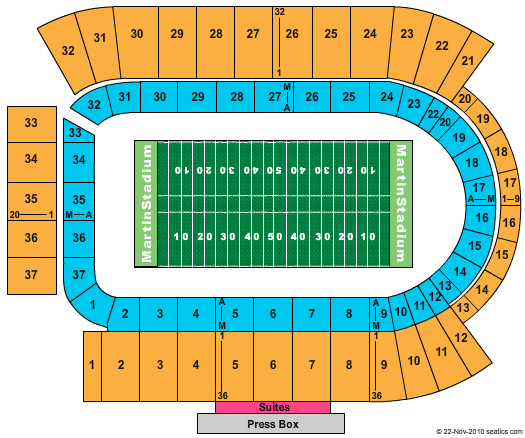 NOTE: Seating layouts can change depending on the type of event. The individual seating chart for the event can be seen when selecting your tickets.
Washington State Sideline & Visitor Sideline
The Washington State sideline is in the front sections of 26, 27 and 28. Where else, the visiting team sideline is in the front of sections 5, 6 and 7.
Washington State Football Outdoor Club Seats
Located below the Suites and Press Box, Outdoor Club seats are among the best seats at Martin Stadium. These seats are located in sections 101-112.
Club ticket holders get access to the exclusive Martin Stadium Club Room, which features upscale concessions and beverages. Fans will also find lounge seating and televisions in the club. The actual club seats are extra-wide cushioned seats with a back, armrests and a cupholder.
Chairback Seating
All rows in sections 1-12, 22-25, and 30-32 have chairback or bench back seatings. Seats in the higher rows may be high but you will still have an awesome view of the entire field.
Visitor Seating
Sections 13-14 on the east endzone contained reserved seats for visiting fans.
Student Seating
The front half of section 26, section 27-37 are reserved for WSU students. Do not buy student tickets even if it is cheap as you will be required to show a valid student I.D. to enter the stadium.
What are the best seats at Martin Stadium?
Needless to say, Sections 104-107 have some of the best seats as they are club seats. However, you can also choose to sit in the sideline sections above row 10.
Grab your tickets today and choose your desired seats. Visit the Martin Stadium schedule to select your event.
To view our ticket & refund policy please check the ticket information page.